Speakers | Breakfast Roundtable
Online event. Tuesday, 8 March 2022, 9.30a.m. - 11.30a.m. (CET)
9.30am - 10.30m - Presentations from international experts on women in sport.

In the first part of this online event, international experts in this area will share their experiences and know-how, and will showcase the work that they have done in their organisations, and which they will continue to do, to try to ensure that there is more of a level playing field in sport between women and men in sport.
9.30am-9.40am
Welcome speech
Snežana Samardžić-Marković, Director General of Democracy, Council of Europe
Snežana Samardžić-Marković is since 2012 Director General of Democracy at the Council of Europe, in charge of the Organisation's action promoting democratic innovation, governance, participation and diversity. Her responsibilities include the policy areas of education and youth, local democracy, cultural policies, election assistance, the protection of human dignity, gender equality, children's rights, and the rights of minorities, societal defences against discrimination, democratic citizenship, social cohesion, intercultural dialogue and democratic responses to crisis situations.
Previously, Snežana has held numerous positions in the Serbian Government including as Deputy Director in the Ministry of Foreign Affairs for Neighbouring Countries; Assistant Minister of Defence (2005-2007) and Co-President of the Serbia-NATO Defence Reform Group; member of the Foundation Board of WADA, Minister of Youth and Sports (2007-2012) and President of the Fund for Young Talents.
9.40-9.50am
Presentation on the Global Observatory for Women, Sport, Physical Education and Physical Activity (Global Observatory)
Payoshni Mitra, CEO of the Global Observatory
Dr Payoshni Mitra is a former badminton player and coach turned gender and sport scholar, a prominent athlete rights advocate, and a leading campaigner in the abolition of sex testing policies in women's sport. She has more than a decade-long experience of working closely with women athletes across Asia and Africa to enable them to address human rights violations in sports. Her advocacy work on inclusion and non-discrimination in sport has influenced important social, institutional, and structural changes on an international scale.
With her research and advocacy work, Dr Mitra has been able to help athletes win legal cases on complex gender issues on more than one occasion. She was instrumental in assisting Indian athlete Dutee Chand to regain her rights to compete in athletics and was one of the ten-member team who testified for South African Olympian Caster Semenya at the Court of Arbitration for Sport.
She is a Director and Trustee at the Geneva-based Center for Sport & Human Rights and was appointed as the first-ever CEO of the newly established Global Observatory for Women, Sport, Physical Education and Physical Activity in January 2022.
9.50-10.00am
Introduction to the World Conference - 2022 of the International Working Group (IWG) on Women and Sport
Pauline Harrison, Chair of the IWG Conference Steering Committee'
Pauline Harrison is a coach and consultant specialising in executive coaching, strategy and leadership development. She has played a significant role in championing change for women domestically and internationally, advocating for and leading programmes aiming to improve opportunities for women especially in the leadership domain. She is a Programme Leader for the Women's Sport Leadership Academy, a programme dedicated to developing tomorrow's leaders of sport.

She is currently leading the Women in Coaching project for the ICCE and is Chair of the IWG 8th World Conference on Women & Sport. Pauline is living in New Zealand and is on the Board of Women in Sport Aotearoa (WISPA). WISPA is New Zealand's leading advocacy group dedicated to gender equality in sport.
10.00-10.10am
Feedback from the EU High Level Group on Gender Equality
Emine Bozkurt, Chair of the EU High Level Group on Gender Equality
Emine Bozkurt is the Chair of the European Commission's High Level Group on Gender Equality in Sport. This High Level Group makes proposals for future actions to the Commission, the Member States and the sport movement in the field of Gender Equality in sport. Topics related to girls and women's participation in sport, female coaches, women's representation in decision-making processes, media coverage as well as gender-based violence will be addressed.
She fulfills several other leadership roles in Boards of renowned international organizations like International Alert. As Chair of the Board of the International Institute for Democracy and Electoral Assistance in Sweden, she was part of the highest level of leadership of an intergovernmental organization on global democracy working worldwide.
As a former Member of European Parliament (2004-2014) representing the Netherlands, Ms. Emine Bozkurt worked on civil rights, including women's rights. A passionate advocate of human rights, she was appointed Chairwoman of the cross-party Anti-Racism and Diversity Intergroup of the European Parliament. As a leading MEP on gender equality in sport, she cooperated closely with the European Commission, national governments, Council of Europe, sport and civil society organisations during her 10 years in European Parliament. In 2014 she was appointed Knight in the Order of Orange-Nassau by His Majesty the King of the Netherlands.
10.10-10.20am
Coaching for change
Nagin Ravand, Football Coach, Denmark and Gender Equality
Nagin Ravand is a young female minority footballer dreaming of changing the world through football, the same way football changed the world of a little Afghan refugee girl in Denmark.
I am a 22-year-old Danish-Afghan who fled Afghanistan as a child. Today I am a student of BSc. Education Science whilst studying to become a professional football coach as well. Currently I hold the UEFA B-License and work for Europes biggest football retailer as project lead on making other football enthusiast's football dreams come true. I have created and developed several sustainable female football departments and initiatives in Denmark.
I am using my voice in society for the purpose of empowering and engaging minority girls and women and attracting them to the football pitch. My goal is to equalize the playing field and change the norms and the image of the ideal footballer by developing the needed diverse representation. I have been recognized for my dedication on a national and international level through several awards and prizes, and today I hold a seat at the table in several boardrooms as an advisor on inclusion. I am an ambassador of the Danish FA and the Danish Ministry of Culture along my position as city representative in the city's Committee of Equality & Diversity. I stand for challenging the odds and one I dream of one day coaching the Afghanistan Women's National Football team!
10.20-10.30am
Judging for greater equality - presentation from the International Federation of Sports Officials (IFSO)
Charlotte Girard Fabre, Secretary General of IFSO
Charlotte Girard Fabre is Secretary General of IFSO and handball referee in national level and a former olympic ice hockey referee.
I am 40 years old, I have been a high level sportswoman since the age of 13, and I wish to symbolize this new generation of committed women. The quest for excellence and the requirement of performance led me to referee at the Olympic Games in Sochi (Russia) 2014 and Pyeonchang (South Korea) 2018, I sharpen my skills and expertise every day to honor my 10 Olympic rings.
A fighter at heart and an explorer of new horizons, I push my limits in sport as well as in my professional life today and tomorrow. Decision-making, time management and conflict management are among my areas of expertise. Resolutely focused on excellence and performance, I accompany your teams collectively to develop a disruptive and pragmatic approach.
An ardent defender of gender diversity and the place of women in our society, I am also passionate about civic engagement: elected General Secretary of the International Federation for Sports Officials, General Secretary of the French Association of Multisport Referees and Ambassador of the Cercle InterElles, I have also chosen to act at the highest institutional level (Ministries, UNSS, FFHB,...).
10.30am - 11.30am - Coffee table discussion - what steps can be taken to improve women's position in sport?
moderated by Francine Hetherington Raveney, Deputy Executive Secretary, Enlarged Partial Agreement on Sport (EPAS)
moderator
moderator
Francine Hetherington Raveney
Deputy Executive Secretary of EPAS
Francine Hetherington Raveney is an expert in the fields of gender equality, co-productions, communication and sport. She obtained a Master's in Women's Studies at Oxford University and then went on to carry out doctoral studies in France. Since 2000, she has worked in a number of international organisations, including WHO Europe and the Council of Europe, where she is currently Deputy Executive Secretary for EPAS with a special focus on gender equality, anti-discrimination work, managing the EPAS consultative committee and the mapping of sports facilities. In 2012, she founded and was Executive Director of the European Women's Audiovisual Network. Between 2014 and 2020 she managed the gender equality working group for Eurimages and oversaw the adoption of the Council of Europe Recommendation on Gender Equality in the Audiovisual Sector (2017) and other gender-related work. She is also an advocate for well-being through sport, and sport as a preventative health measure.
speakers
speakers
Jane Dennehy
Director of the Gender Hub
Jane Dennehy is a researcher and consultant specialising in gender and sport. She is currently working on governance and board dynamics projects and teaching at University of London on postgraduate international sport development course. Jane has contributed chapters and edited books on sport – Gender Equity in UK Sport, Leadership and Governance (2022), Seven Faces of Women's Sport (Emerald) and Gender Diversity in European Sport Governance, Scotland chapter (Routledge). She completed her doctoral research on gender and competition at the London School of Economics following a career in media and marking.
Kole Gjeloshaj
Chair of the EPAS Consultative Committee, Deputy Secretary General of the International School Sports Federation (ISF), Rapporteur EU High Level Group on Gender Equality
Kolë Gjeloshaj is Deputy Secretary General/CEO of the International School Sport Federation (ISF) but also Chair of the Consultative Committee of the Enlarged Partial Agreement on Sport of the Council of Europe (elected in September 2020), Member (Rapporteur) of the High-Level Group on Gender Equality of the European Commission (appointed in December 2020 – March 2022), Secretary of the Gender Equality Committee of the International School Sport Federation (FISU) 2007-2017 and Member of the Youth, Education and Culture Commission of Festival Internationale du Cinéma et Télévision Sportive (FICTS) - (2019 -)
Since 1996, he developed his career in international multisport federations covering positions dealing with education, member relations, institutional affairs, and protocol within the International University Sports Federation (FISU). He set up the educational and development departments and the related committees of FISU. He was the team leader of the Proclamation by UNESCO (2015) of the International Day of University Sport (20th September). He joined ISF in 2018 as strategic cooperation director then appointed in 2019, Deputy Secretary General/CEO.
Alongside his professional career, he has developed an academic activity as Scientific Collaborator at the Institute of Sociology of ULB (2000 – currently associate member of Cevipol). He co-authored two books contributed to two dictionaries and wrote more than forty articles translated in five languages. He is an alumni of Univeristé Libre de Bruxelles (M.A. Political sciences) and the University of Pisa (M.A. Anti mafia and corruption (APC)).
Tess Harmand
Development Director, Alice Milliat Foundation
Tess Harmand is Development Director at Alice Milliat Foundation.
I spent my first years of study on the Euro-American campus of Sciences Po Paris (Reims) and then I did an academic exchange in the USA at the University of Miami. I then continued my education with a master's degree in International Relations at Sciences Po Paris. After graduating in 2019, I started a civic service within the Alice Milliat Foundation which attracted me by its commitment to gender equality in sport and its international dimension. At the same time, I got involved as a volunteer in the French Quidditch Federation, a young team sport that is practised only in mixed gender, and became responsible for the equality-mixity commission within the association. Wanting to take my commitment to these issues further, I stood for election to the Board and have since become President of the French Quidditch Federation.
Since February 2021, I have been the Development Director of the Alice Milliat Foundation. I also supervise the foundation's teams and ensure the follow-up and the smooth running of the national events that we initiate or on which we are partners.
We are currently involved in a European project to combat discrimination and violence in sport, of which women are the majority victims, in a project to support the organisation of inclusive sports events, and I have taken part in the creation of an educational kit aimed at raising awareness of gender equality, co-education and the evolution of women's rights to practice sport.
Payoshni Mitra
CEO of the Global Observatory
See her biography at the top of the webpage.
Nagin Ravand
Football coach
See her biography at the top of the webpage.
Sarah Townsend
Co-President, European Gay and Lesbian Sport Federation (EGLSF), member of ENGSO's Equality Within Sport (EWS) Committee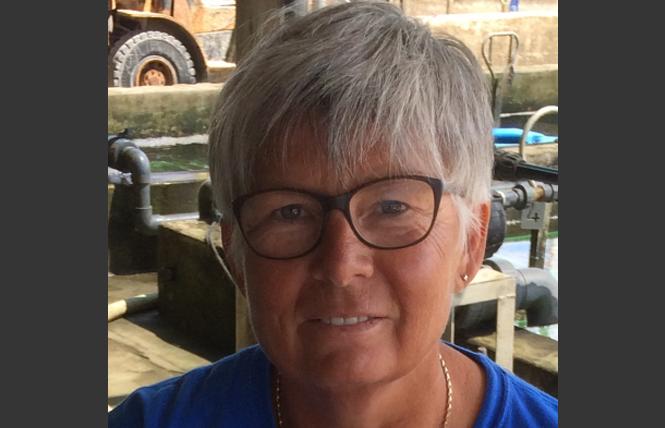 Sarah Townsend is co-president of the EGLSF (European Gay & Lesbian Sports Federation, which was founded in 1989 with the goal of fighting against discrimination in sport on grounds of gender identity or sexual orientation. As a member of the ENGSO EWS committee, and co-founder of Activ'Elles04, Sarah is active in working to remove barriers and make sport a safe space for everyone, promoting women's sport, and motivating women to take part in sporting activities.
11.20am - 11.30am
Closing words
Sophie Kwasny, Head of the Council of Europe Sport Division
Sophie Kwasny is the Head of the Sport Division of the Council of Europe (international organisation based in France) responsible for the Enlarged Partial Agreement on Sport (EPAS) and the promotion and implementation of ground-breaking legal instruments upholding the integrity and values of sport. Combating doping and the manipulation of sport competitions, and promoting an integrated safety, security and service approach at sports events are the key aims of the three Council of Europe Sport Conventions. She is a graduate of the Strasbourg Law University and has been working for the Council of Europe for nearly 25 years on a variety of topics ranging from data protection to prisons' reforms, or from the independence of the judiciary to nationality law.
Disclaimer: Each speaker has provided their own picture and short biography which are published hereunder.
Contact
contact