Education Ministers back pan-European anti-corruption platform
Helsinki, Finland on 26 and 27 April 2013
European Ministers have backed the creation of a Europe-wide platform to tackle corruption and fraud in education and an ethical code for teachers. Meeting at the Council of Europe's 24th Education Ministers Conference in Helsinki (Finlandia Hall) – 26-27 April – ministers and high-level delegations from 43 European States, as well as Mexico and the European Union, have been discussing 'Governance and Quality Education'.
The platform and ethical code are part of a five-point plan agreed by Ministers today to ensure access to an education of quality for every pupil and student in Europe and beyond, including Roma and other vulnerable and disadvantaged children.
The platform would provide training, codes of conduct, accreditation and quality assurance and a space to share best practice.

More

Final Declaration
---
Steering Committee for Educational Policy and Practice (CDPPE)
The 2nd plenary session of the Steering Committee for Educational Policy and Practice (CDPPE) was held from Tuesday 19 February to Thursday 21 February 2013 at the Palais de l'Europe in Strasbourg.

---
2nd South East Europe Summer Academy
Human Rights in Action -The South East Europe Summer Academy 2013
The aim of the training is to strengthen the capacity of teachers and their school heads, as well as representatives from NGOs or parents' associations to implement and promote EDC and HRE principles and practices in their schools and communities in South East Europe. Furthermore, it aims to strenghthen cooperation between the participating countries through the exchange of experiences and good practices in the field.

Call for Participants and Trainers
---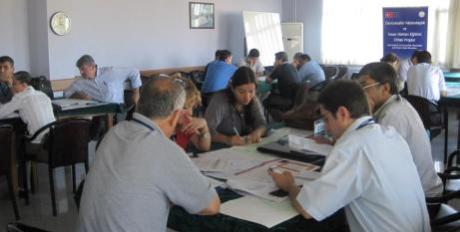 Second In-Service Training Takes Place in Antalya
The Curriculum Development Woking Group organisez a second in-service training for the teachers of the pilot schools on 28-30 January 2013 in Antalya. This follow-up training also included a debriefing session focusing on the evaluation of the 1st school semester and ways of improving the quality of the activities implemented in the classroom. The teachers also looked ahead and have the opportunity to contribute to the design of future activities

More
---
13/01/2013: Training activities 2013
The training activities of the Pestalozzi Programme for 2013 are online. In cooperation with our partners in our member states we can offer a wide range of training opportunities for education professionals across Europe on and around the major aspects of education for democracy: citizenship, human rights, diversity, languages, the prevention of violence and discrimination, responsible behaviour in the social space, to name but a few.

Pestalozzi programme for 2013

Pestalozzi Website
---