Better Education for better Democracies
20 Jul 2020 14:48:00

The use of the European Qualifications Passport for Refugees (EQPR) increases once more. For the...
FOCUS
FOCUS
The Education Department is adapting to the current situation. In this section of our website, we present the actions taken to address the challenges faced. You will find here relevant information including our response to the crisis, good practices from our member states, Council of Europe education standards and new and existing education resources addressing the current challenges that can be used by teachers, other education professionals and the general public.
For more information: COVID-19 Response
Francis Goullier
Francis Goullier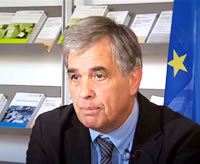 It is with immense sadness that we have learned of the death of Francis Goullier after a long illness. Francis was a pillar of language education at the Council of Europe and the perfect mediator between Strasbourg and Graz, enriching ECML projects with the breadth of his experience in language policy.
Modest, self-effacing and altruistic, he had a wonderful gift for acknowledging and valuing different contexts, voices and pedagogic traditions and for drawing on these to develop European responses to challenges in language education, imbued with the values of the Council of Europe.
Although Francis' contributions are far too numerous to mention here, we would like to highlight the chapter he wrote on the languages of schooling for the ECML 25th Anniversary Publication "Changing contexts, evolving competences: 25 years of inspiring innovation in language education", not only because this is probably the last piece he produced for the Council of Europe, but because it embodies his enduring commitment to social justice and democratic citizenship. A teacher at heart, he cared passionately about learners, reminding us all of our duty as educators to give them every chance of academic success.
As a small gesture of our gratitude, we have posthumously dedicated the 25th Anniversary Publication to Francis, who was involved with the ECML from its very early days.
Our most sincere condolences to his family and friends, and to everyone who had the privilege of knowing him. He will be sorely missed.
MULTIMEDIA
MULTIMEDIA
Language tools
Language tools
Agenda for sustainable development and quality education
Agenda for sustainable development and quality education
Education Department
Education Department
Education Department
is part of the
Directorate of Democratic Participation within the
Directorate General of Democracy
DGII of the Council of Europe
Education Committee
Education Committee
Contact us
Contact us
Education Department
Council of Europe
Agora Building
1, Quai Jacoutot
67075 Strasbourg Cedex
France
Write to us